There are many techniques you can use to buy consulting services, but the ones I want to share with you today are what we call "The Ultimate Consulting Sourcing Tricks" and as you dig deeper, you will find, how our approaches stand out from the rest.
This procurement trick is so powerful that it will help you save your company thousands upon thousands of dollars when buying consulting services. It is different from the other ones we've shared in my previous blog posts.
The reason being, this one has nothing to do with how much money you have or what kind of consultant you are looking for. It is just about being methodical and organized when looking for a consultant.
Our clients often come with us with complex needs. For instance, they are looking for a strategy consulting firm with experience in well stimulation in the US market or a marketing expert in telecommunications, based in the French Caribbeans.
They've recognized the advantages of working with specialized experts, but they're not yet able to find them for their project.
Before we dive into the details, let us remind you that you need to lay down your expectations clearly. Indeed, only when you know what you are looking for can you start searching for the right fit. Let's make a list of these needs!
1. The First Consulting Sourcing Rule: Work With the Right People
If not, it is time to open your procurement process and start consulting with specialized services providers. It's tempting to hire external experts directly. However, we wouldn't be doing our work well if we didn't urge you to perform a brief make-or-buy analysis of your project.
Is it possible to complete your project in-house? Do you have the appropriate personnel? Do you require outside expertise? Is there any trade secret information involved? Is it feasible to outsource part of the work?
These questions are particularly relevant if you have internal consulting or improvement/excellence teams.
There are several places where you can start your search. Don't hesitate to use several sources to find new players. And don't forget to assess each company based on your criteria, even if you have worked successfully with them previously or found them a little short on a previous proposal.
"The Expert you know might not be the Expert you require."
Leverage Your Internal Resources
We recommend starting to leverage your procurement resources, as you might have a list of Preferred Providers or pre-approved consultants.
If they don't work for your industry or the capability you need, ask yourself if their expertise is still relevant to the project? If so, contact them directly and discuss with them how their services can help meet your needs.
If you don't have a procurement team, ask your colleagues. They might know consultants that fit the bill for what you are looking for.
You might also have a database of evaluation reports or previous bids that you can use to identify potential suppliers.
Secret tip: You may occasionally get information on a consulting firm with which you don't want to do business.
External Sources Can Help You See the World in a Different Light
In our experience, the best results come from leveraging external resources such as marketplaces and business networks.
In fact, we have found that it is almost always possible to find a consultant on LinkedIn or a Directory of Consulting Firms, such as Improveo, that organizes consulting firms per region capability and industry served and presents their thought leadership.
Articles and books written on the field you are interested in are also a great source of information. You can find the latest trends and methodologies, and it might lead you to adjust your needs. That's also a great way to spot consulting firms with the right specialized skill.
Talking to industry peers and associations can also lead you to qualified consultants you may have never thought of working with before.
We recommend completing your work with a plain and simple Google Search (or Qwant or DuckDuckGo).
Secret tip: Whenever you find a consulting firm that fits the bill, look closely at their website, publications, and social media. Determine what keywords would best describe the intersection between your needs and their services, and use them to search alternatives.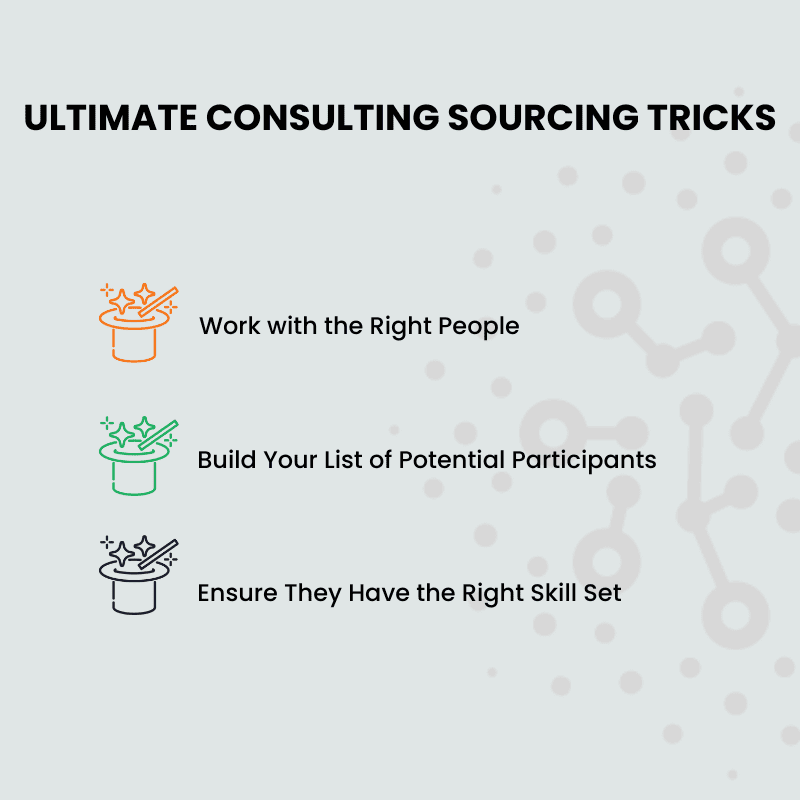 2. How to Build Your Shortlist?
At this stage, you must narrow down your potential consulting firms until you've found a shortlist of those with the necessary skills, bandwidth, and desire to collaborate with you.
Make a Preliminary List of Players
The first step is to compile a preliminary list of possible participants. The size of your project will determine the length of your list. If you need to find a mid-sized project and intend to compare three prospective suppliers, include about 15-20 firms in your initial search.
If you find yourself with a large number of answers to evaluate, you'll need to improve the granularity of your criteria. Start digging in if the length of your list is consistent with your objective.
Secret tip: You should calculate 30% of the firms that don't have the required "Consulting DNA Profile" and 30% of those that are not accessible or interested in the project as a rule.
Dig Into the Specifics to be Efficient With Your Consulting Sourcing Process
You've finished putting together your first list, and you need to double-check their characteristics to ensure they have the appropriate profile.
Even though many consulting companies claim to have expertise in all skills across every industry, their track record says otherwise. Instead, most of them, particularly small boutiques, specialize in one area or capability where they get most of their business.
Take a good look at the case studies or past projects on the website. Also, find out who the previous clients are: Who are they? What did they accomplish?
The background of the company's founders is another good predictor of the company's main focus, especially for small businesses. But, first, take a look at the leadership group.
In their brochures or websites, most consulting firms will provide a statement of their goal or method. You'll learn more about who they are and how they do their job.
Are they concentrating on high-level strategy rather or implementation consulting? Are they focusing more on hard or soft aspects? Are they long-serving consultants or former executives?
All of these elements will provide you with a better picture of who these consulting firms are and how they would complement your business.
Secret tip: The consulting procurement strategy is not just about finding the best supplier, but also that their approach will be a good fit for your culture and way of doing business. The last thing you want to do is implement an innovative program only to have it slowly fizzle out over time because there was no real buy-in from employees or key stakeholders
3. How to Make Sure That They Have the Right Skills?
And this stage, you must ensure that your partners have the right set of skills that are required.
Identify the Right Partners
Don't just contact any consultant from a given consulting firm, especially the bigger ones. Every partner brings a different set of talents and expertise to the table, and their presence will influence your project.
Most consulting firms are divided into Practices Based on Industry Experience or Capability (when not both). They may even include the leadership team's contact information on their website.
If you don't find the partners by searching Google, LinkedIn is a good place to look for them and check out their profiles.
Thought leadership is also an extremely effective tool. Search for material on the subject of your project to find articles or white papers. In most consulting firms, the authors' names and their contact information may often be found in the papers.
You should now have a list of consulting firms that have, at least on paper, the right people with the right skills in the right place. Your next step is to connect with them to check their interest and capabilities in person.
Secret tip: Check if they're at the correct firm on LinkedIn to ensure you've got the right company. The rate of change in consulting is dizzying; you may be one consultancy behind. After that, you'll most likely add a few consulting firms to your list.
Contact Them and Ask Them Questions
Three components can only be verified in a one-on-one conversation: interest, availability, and compatibility. Connect with the consultants you've identified to schedule a call or a meeting once you've finished compiling your list of potential consulting firms.
Here are a few pointers that you can use for these calls:
Make them talk. They'll describe what they do and how they do it in detail. You'll discover more about their culture, methodologies, and areas of expertise by listening to them.
Go through your list of criteria and check if they are indeed a good fit
Keep your presentation short. It's still an exploratory call, not a briefing, and you haven't signed an NDA yet. You may describe the skills and prior experience you're searching for, as well as the team in charge of the project's leadership.
Give them insight into the project's odds and timetable.
Give them a sense of the budget. You don't have to give a precise figure, but you may disclose if your company has a modest budget or if it is planning a major project.
Secret tip: It's critical to make these exploratory calls to verify your assumptions and ensure they're interested in the project you want to start. It's also a good time to confirm if they'll be available for the job and whether or not they have the resources.
After that, you should consult with the project sponsor and the project leader to choose which of these firms will be included in your RFP process.
Wrapping Up: Unlocking The Magic of Methodical Consulting Sourcing
Choosing the right consultant is a crossroad moment for many projects; the outcome can drastically change based on this decision. With the plethora of options available today, our ultimate consulting sourcing tricks empower you to move beyond surface-level decisions and dive deeper into the nuances of what makes a consulting firm genuinely fit your needs.
Whether you're searching for niche expertise or ensuring that a consultant's approach aligns seamlessly with your company's ethos, remember it's not always about the biggest names or highest price tags. It's about methodical, organized, and informed decision-making.
By incorporating these insights into your sourcing process, you're not just procuring services, you're setting the stage for project success and maximizing the value you derive from consulting partnerships.
And remember, the real secret sauce lies not just in finding expertise but ensuring synergy. Consulting is a dance of human interaction, strategy, and expertise. Make sure your partners know the steps.
consulting sourcing consulting sourcing consulting sourcing consulting sourcing
consulting sourcing consulting sourcing consulting sourcing consulting sourcing
consulting sourcing consulting sourcing consulting sourcing consulting sourcing
consulting sourcing consulting sourcing consulting sourcing consulting sourcing
consulting sourcing consulting sourcing consulting sourcing consulting sourcing

How Consource Can Help?
With Consource, you're not just getting another sourcing tool; you're getting our extensive reservoir of best-in-class practices, tips, and tricks, all embedded seamlessly into the platform. Think of Consource as your digital consulting procurement guru, guiding you to make smarter, more informed decisions every step of the way.